About two weeks ago I attended an X-Mas party for one of the affiliates company's from work. It was on a Tuesday and to top it off the drive to Universal Studios was not pleasant (LA Traffic sucks!).
What usually takes me 25 to 30 minutes, the most, took an hour and a-half. Not a happy start to get in the party mood. Once there I met with a good friend and co-worker and enjoyed a few hours since we had to work the following day at 2am.
Sorry for the poor pictures, some where taken by my stone-age phone (time to upgrade) and the others with the camera.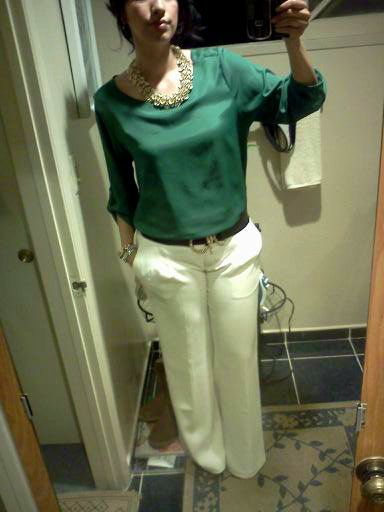 Wearing// Blouse: Fun and Flirt from Marshalls
(similar)
// Trousers: Express
(similar)
// Coat: Forever 21
(similar)
// Belt: from TJ Maxx // Necklace: Natasha bought at Ross // Colorful Bracelet: Vince Camuto also from Ross //Watch: Bulova // Heels: Dollhouse